Antique Tibetan Hair Bead, Turquoise, High Grade Silver, 26.9 Grams, Length: 6 cm (2 1/4″)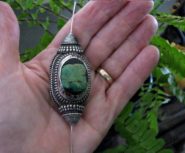 This is a rather large, late 19th century or early 20th century traditional high grade silver and turquoise cabochon bead hair ornament from Tibet.
This teal-green to lime-green colored turquoise is found with many signs of heavy wear. Its matrix appears in small patches. This uncommon type of turquoise may be as much as 500 years old and from a mine no longer in production.
This type of turquoise is still sought after by Tibetans.
This bead is in the shape of conch shell. In Tibetan Buddhism it is one of a particular set of eight auspicious symbols. The turquoise is surrounded by a row of individually applied small lotus petal elements as well as on the extension caps, and rows of very fine silver beaded wire. There is a bitumen element in the bead for weight and to keep the turquoise stone in place
This Tibetan Hair Bead is in very good condition.
Please note there is no backing plate as detailed in the listing photos - and no thread hole through the bead. Jewellery making wire can be thread through the end cones and across the back for hanging - to make into a pendant. The wax element in the bead is very strong and not crumbling at all.
Tibetan Hair Bead Width: 2.8 cm (1 1/8")
Tibetan Hair Bead Height: 2.cm (3/4")
Weight: 26.9 grams (0.950 oz.)